Private Spa
Private Spa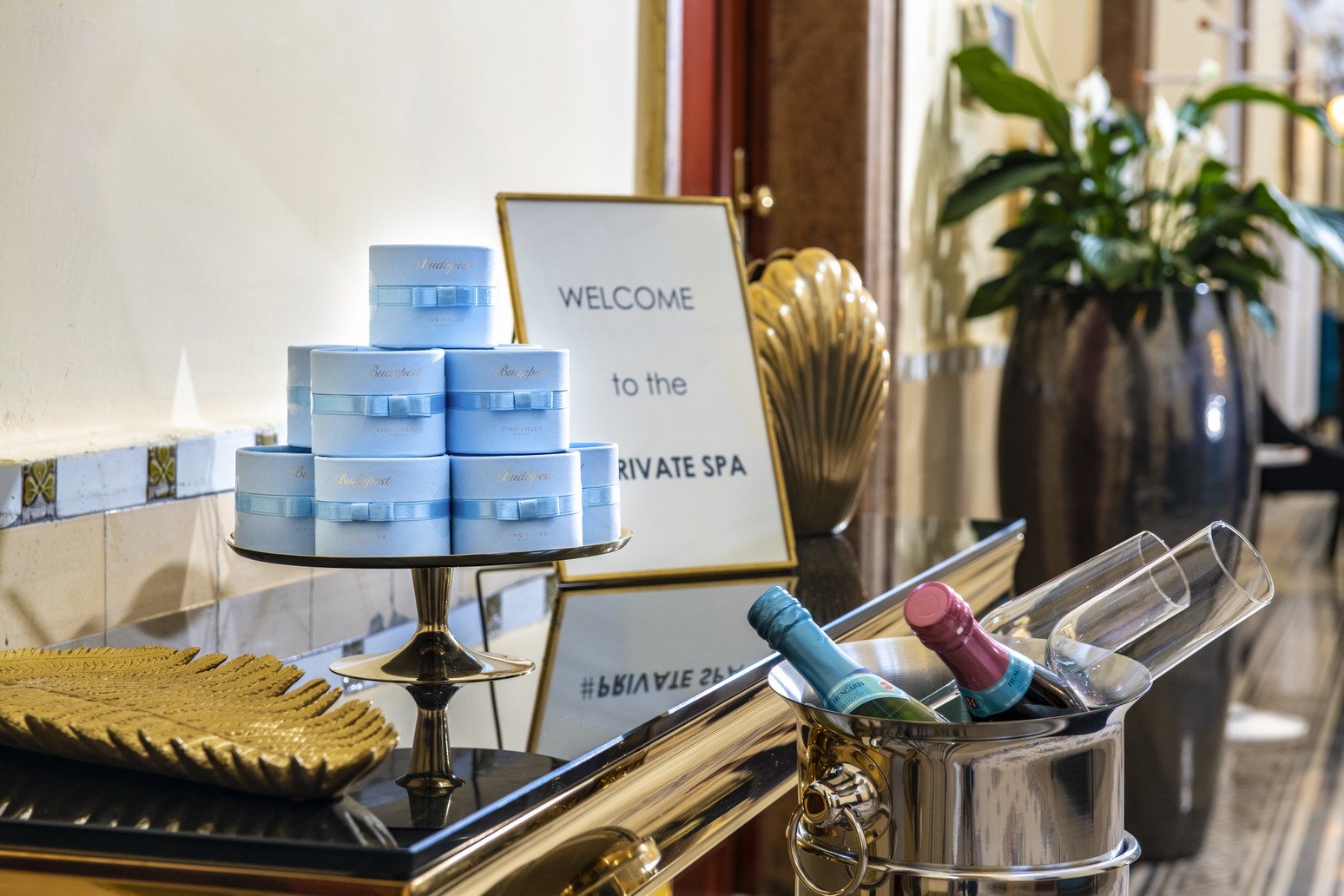 deluxe love for couples
DELUXE RELAXING ROOM


The package includes:

Bath ticket for 4 hours, including private room with private bathroom (shower)

Access to our Dayspalm relaxing area and VIP bar for cocktails and snacks

Access to indoor and outdoor pools, saunas

Mineral water 0,33l

Comfortable bathrobe, towel, slippers, swimming cap

In-room toiletries (shower gel, shampoo, conditioner, body lotion)

Hair dryer

Chocolate dessert
Budapest Spas Handmade Soap
Sparkling wine (Hungária extra dry) 0,75 l / Soft drink 0,2 l

Our colleagues are waiting for our guests with personalized massage offers on site.
For single use, supplement for double Deluxe relaxing room without massage: 44.000 HUF.
For single use, supplement for double Deluxe relaxing room with massage: 52.000 HUF.


Without massage: 32.500 HUF/person (available for 2 people)
With massage (45 minutes): 45.000 HUF/person (available for 2 people)
the island of peace
SUPERIOR RELAXING ROOM


The package includes:

Bath ticket for 4 hours

Access to our Dayspalm relaxing area and VIP bar for cocktails and snacks

Access to indoor and outdoor pools, saunas

Mineral water 0,33 l

Sparkling wine (Hungária extra dry) 0,2 l / Soft drink 0,2 l

Chocolate dessert

Comfortable bathrobe, towel, slippers, swimming cap

In-room toiletries (shower gel, shampoo, conditioner, body lotion)

Our colleagues are waiting for our guests with personalized massage offers on site.
For single use, supplement for double Superior relaxing room without massage: 34.500 HUF.
For single use, supplement for double Superior relaxing room with massage: 46.500 HUF.


Without massage: 26.500 HUF/person (available for 2 people)
With massage (45 minutes): 39.000 HUF/person (available for 2 people)
pampering package
THALASSO PRIVATE SPA PACKAGE


The package includes:

Bath ticket for 4 hours
Access to indoor and outdoor pools, saunas
Deluxe relaxing room (includes private shower, own  bathroom)
Detox body ritual by Thalion (60 minutes) - Treatment steps: peeling, massage, body wrap, finished with body care and foot massage. Detoxification, remineralization, tightening after an invigorating scrub, a concentrate of marine ingredients is rubbed with detox specific gestures. A phase of deep detoxification follows to stimulate elimination functions and drain the body.
Mineral water 0,33 l
Comfortable bathrobe, towel, slippers, swimming cap

Hair Dryer

In-room toiletries (Shower gel, shampoo and conditioner, body lotion)

Chocolate dessert

Budapest Spas Handmade Soap

Sparkling wine (Hungária extra dry) 0,2 l / Soft drink 0,2 l

Price: 46.000 HUF/person

All  room types are also available for 8 hours too, at an additional cost, subject to availability, please mention in the reservation email if you wish to extend. The 4 hour extention for the deluxe room type is 30.000 HUF for two, and 27.500 HUF in the superior room type, for two.
For additional treatments please choose from the following list.
For further information or adding a massage, a couples massage and body treatment to your reservation please contact our colleagues direct via e-mail to: privatespa.szechenyi@budapestspas.hu, who will be more than happy to arrange them for you. Thank you.
If you wish to enhance your Private Spa Experience why not add a Beer Spa session to your reservation?
Relaxing bath in wooden tubs in 36 degree warm thermal water. We pour natural beer ingredients into the tubs (hops, malt and yeast) which have an amazing impact on the skin and body as well. Meanwhile guests can pull themselves as many pints of delicious lager beer as they wish from the taps situated on the side of the tubs.
Further information: +36 20 353 2295 (on weekdays from 9 am to 4 pm)